W2: Prevention |SPANISH| Curanderismo: Tratamiento tradicional integral de la mente, el cuerpo y el espíritu / Curanderismo: Comprehensive traditional healing of the mind, body and spirit
[En Español]
Curanderismo es un tema que muchos Latinx conocen por que sus antepasados lo practicaban. Eliseo Torreso y Mario del Angel Guevara enseñan clases y son autores de artículos y libros sobre este tema incluyendo énfasis en plantas medicinales, el uso de ventosas, el empacho, sobadas, limpias energéticas/espirituales, y otros temas. Muchos de los tratamientos son por curanderos/as de México.
Dominio 2: Educación para la prevención y prestación de servicios
Curanderismo (Healerism) is a subject that many Latinx know because their ancestors practiced it. Eliseo Torreso and Mario del Angel Guevara teach classes and are authors of articles and books on this topic including emphasis on medicinal plants, the use of suction cups, empacho, sobadas, clean energy / spiritual, and other topics. Many of the treatments are by healers from Mexico.
This workshop will be presented in Spanish.
[Em Português]
Curandeirismo é um assunto que muitos latinos conhecem porque seus antepassados o praticavam. Eliseo Torres e Mario del Angel Guevara ministram aulas e são autores de artigos e livros sobre o tema, incluindo ênfase em plantas medicinais, uso de ventosas, empacho (obstrução intestinal), sobadas (massagem), limpezas energéticas/espirituais, entre outros temas. Muitos dos tratamentos são feitos por curandeiros/as do México.
Domínio 2: Educação Preventiva e Prestação de serviços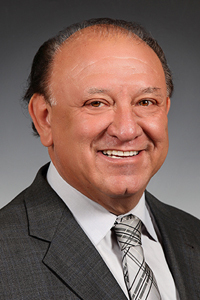 Eliseo Torres, Ed.D., M.A, B.A
Administrator/Professor
University of New Mexico
Eliseo "Cheo" Torres has served as Vice President for Student Affairs/Full Professor at the University of New Mexico since January 2, 1996. He is responsible for all facets of student life, which include programs such as El Centro de la Raza, African American and American Indian Student Services, Women's Resource Center, Student Union, Student Activities, Student Health & Counseling Center, Career Services, etc. He teaches three classes on traditional medicine, and regularly lectures and gives presentations on the history and lore of curanderismo to audiences ranging from scholars and students of Latin American culture to people hoping to become knowledgeable about alternative and traditional medicine, including lay people and medical professionals alike. He has published four books on his life and his research in traditional medicine emphasizing medicinal plant and rituals published by the University of New Mexico Press and Kendall Hunt Publishing Company.

Before he came to the University of New Mexico, Dr. Torres served as Vice President for External Affairs at Texas A&M University-Kingsville as well as teaching in the Bilingual Doctoral Program. He has also served as Interim President and Vice President of Student Affairs.He is currently serving on the Hispano Chamber of Commerce Board and has been involved in a number of other boards and organizations.
[En Español]
Eliseo "Cheo" Torres ha sido Vicepresidente de Asuntos Estudiantiles/Profesor Titular en University of de Nuevo México desde el 2 de enero de 1996. Es responsable de todas las facetas de la vida estudiantil, que incluyen programas como El Centro de la Raza, los Servicios para Estudiantes Afroamericanos e Indígenas Americanos, el Centro de Recursos para la Mujer, la Unión Estudiantil, las Actividades Estudiantiles, el Centro de Salud y Asesoramiento Estudiantil, los Servicios de Carrera, etc. Es profesor de tres cursos sobre medicina tradicional, y regularmente da conferencias y presentaciones sobre la historia y la sabiduría del curanderismo a audiencias que van desde los estudiosos y estudiantes de la cultura latinoamericana hasta las personas que desean adquirir conocimientos sobre la medicina alternativa y tradicional, incluyendo tanto a los legos como a los profesionales de la medicina. Ha publicado cuatro libros sobre su vida y su investigación en medicina tradicional haciendo hincapié en las plantas medicinales y los rituales, publicados por la University of New Mexico Press y la Kendall Hunt Publishing Company.
Antes de llegar a University of Nuevo México, el Dr. Torres se desempeñó como Vicepresidente de Asuntos Externos en la Universidad A&M de Texas-Kingsville, además de ser docente en el Programa de Doctorado Bilingüe. También ha servido como Presidente Interino y Vicepresidente de Asuntos Estudiantiles. Actualmente forma parte de la Junta de la Cámara de Comercio Hispana y ha participado en otras juntas y organizaciones.
[Em Português]
Eliseo, "Cheo" Torres atua como Vice-presidente de Assuntos Estudantis/Professor Titular na Universidade do Novo México desde 2 de janeiro de 1996. Ele é responsável por todas as facetas da vida estudantil, que incluem programas como El Centro de la Raza, Serviços para Estudantes Afro-Americanos e Nativo-Americanos, Centro de Recursos da Mulher, União Estudantil, Atividades Estudantis, Centro de Saúde e Aconselhamento Estudantil, Serviços de Carreira, etc.Ele ministra três aulas sobre medicina tradicional, e oferece regularmente palestras e apresentações sobre a história e tradições do curandeirismo a públicos que abrange acadêmicos e estudantes da cultura latino-americana até pessoas que esperam se tornar conhecedoras da medicina alternativa e tradicional, incluindo leigos e profissionais médicos. Ele publicou quatro livros sobre sua vida e sua pesquisa em medicina tradicional enfatizando plantas medicinais e rituais publicados pela University of New Mexico Press e Kendall Hunt Publishing Company.
Antes de chegar à Universidade do Novo México, Dr. Torres atuou como vice-presidente de Assuntos Externos na Texas A&M University-Kingsville, e também lecionou no Programa de Doutorado Bilíngue. Ele também atuou como Presidente Interino e Vice-Presidente de Assuntos Estudantis. Atualmente, ele atua na Câmara de Comércio Hispana e tem estado envolvido em vários outros conselhos e organizações.
$i++ ?>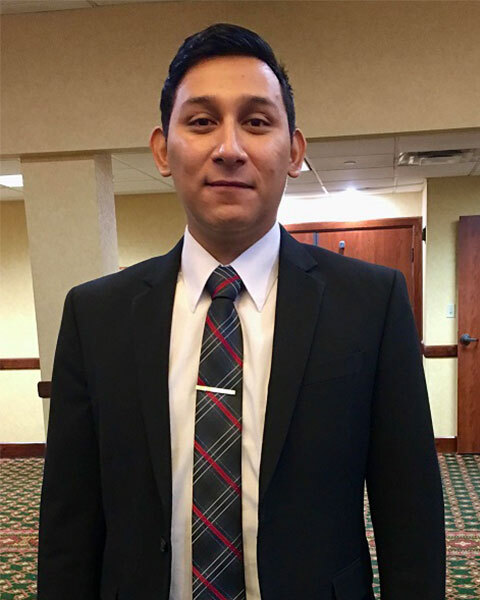 Mario Esteban Del Angel Guevara, M.A.
Doctoral Candidate in Hispanic Linguistics
The University of New Mexico
Mario Esteban del Ángel Guevara was born in Monterrey, Nuevo León, Mexico where he obtained his bachelor's degree in Bilingual education at the "Universidad Autónoma de Nuevo León". He is a PhD candidate in Hispanic linguistics at the Department of Spanish and Portuguese where he has taught courses in Spanish as a Second Language, Heritage language, medical Spanish and currently teaches two courses on Curanderismo: Traditional Medicine of Mexico and the Southwest. Besides teaching, his work also includes translating and interpreting Spanish-English for the Division of Student Affairs and as mentor for transfer students for the CNM-UNM Mellon Transfer Initiative for the Humanities for the Spanish and Portuguese department. Some of his major translated publications include three books on Curanderismo, the traditional medicine of Mexico, a book on finances for U.S. Latinos: balancing family, business and culture, and an article on indigenous linguistic policy in Oaxaca Mexico, during the presidential elections of 2018.
[En Español]
Mario Esteban del Ángel Guevara nació en Monterrey, Nuevo León, México, donde obtuvo su licenciatura en educación bilingüe en la Universidad Autónoma de Nuevo León. Es candidato a un doctorado en lingüística hispánica en el Departamento de Español y Portugués, donde ha impartido cursos de Español como Segunda Lengua, Lengua de Herencia, Español Médico y actualmente imparte dos cursos sobre el Curanderismo: Medicina Tradicional de México y el Suroeste. Además de la enseñanza, su trabajo también incluye la traducción e interpretación Español-Inglés para la División de Asuntos Estudiantiles y como mentor de los estudiantes de transferencia de la Iniciativa de Transferencia CNM-UNM Mellon para las Humanidades del departamento de español y portugués. Algunas de sus principales publicaciones traducidas incluyen tres libros sobre el curanderismo, la medicina tradicional de México, un libro sobre las finanzas para los Latinos de Estados Unidos: el equilibrio de la familia, los negocios y la cultura, y un artículo sobre la política lingüística indígena en Oaxaca México, durante las elecciones presidenciales de 2018.
[Em Português]
Mario Esteban del Ángel Guevara nasceu em Monterrey, Nuevo León, México, onde obteve seu bacharelado em Educação Bilíngue na "Universidad Autónoma de Nuevo León". Ele é doutorando em linguística hispânica pelo Departamento de Espanhol e Português, onde lecionou cursos de espanhol como Segunda Língua, Língua Patrimonial, Espanhol Médico e atualmente ministra dois cursos sobre Curandeirismo: Medicina Tradicional do México e do Sudoeste. Além de lecionar, seu trabalho também inclui traduzir e interpretar espanhol-inglês para a Divisão de Assuntos Estudantis e ser um mentor para alunos transferidos para a Iniciativa de Transferência CNM-UNM Mellon para as Humanidades para o departamento de Espanhol e Português. Algumas de suas principais publicações traduzidas incluem três livros sobre Curandeirismo, a medicina tradicional do México, um livro sobre finanças para latino-americanos: equilibrando família, negócios e cultura, e um artigo sobre política linguística indígena em Oaxaca México, durante as eleições presidenciais de 2018.
$i++ ?>
Key:
Complete
Next
Failed
Available
Locked
W2: Prevention |SPANISH| Curanderismo: Tratamiento tradicional integral de la mente, el cuerpo y el espíritu / Curanderismo: Comprehensive traditional healing of the mind, body and spirit
09/16/2021 at 10:45 AM (MDT) | 90 minutes
09/16/2021 at 10:45 AM (MDT) | 90 minutes
Select the "View On-Demand Recording" button to begin.
Select the "View On-Demand Recording" button to begin.