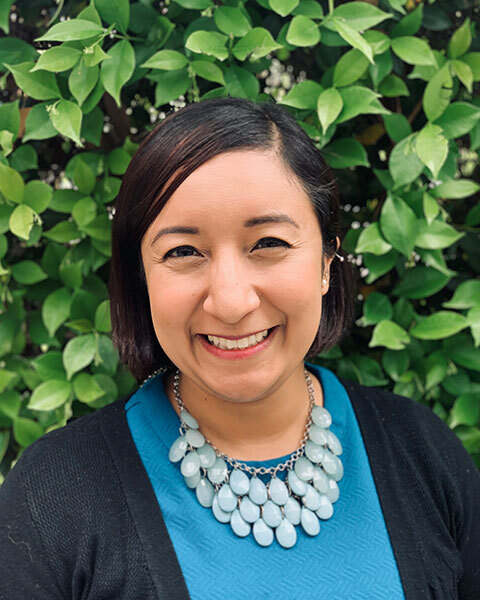 Brenda Manzanarez, MS, RDN
Clinical Dietitian II
Childrens Hospital Los Angeles
Brenda Manzanarez, MS, RD is a Registered Dietitian with the Department of Clinical Nutrition and Lactation at Children's Hospital Los Angeles. In her 10 years of experience implementing child and family-based behavioral community interventions, her focus has been on promoting healthy lifestyle behaviors in underserved and Spanish speaking populations. Her current role involves that of clinician, researcher, and educator in pediatric nutrition. She leads interventions in the hospital and community setting aimed at assisting families manage childhood and adolescent obesity and diabetes. She is also the lead coordinator for the Kids N Fitness (KNF) Program, and Principal Investigator adapting the KNF curriculum to teens and young adults with autism spectrum disorder. Previously, she was a research coordinator at the University of Southern California for a 5-year study promoting nutrition in the Latinx community in East Los Angeles. She chose this profession to support the Spanish-speaking community through the power of food, interventions, and research to expand quality and appropriate access to resources and healthcare.
[En Español]
Brenda Manzanarez, MS, RD es una dietista registrada en el Departamento de Nutrición Clínica y Lactancia del Children Hospital Los Angeles. En sus 10 años de experiencia en la implementación de intervenciones comunitarias basadas en el comportamiento de los niños y las familias, se ha centrado en la supervisión de los comportamientos de estilo de vida saludable en las poblaciones de habla hispana y marginadas. Sus actuales funciones son las de médico, investigadora y educadora en nutrición pediátrica. Dirige intervenciones en el ámbito hospitalario y comunitario destinadas a ayudar a las familias a controlar la obesidad y la diabetes en niños y adolescentes. Es también la coordinadora principal del Programa Kids N Fitness (KNF), e investigadora principal de la adaptación del plan de estudios del KNF para los adolescentes y jóvenes adultos con trastorno del espectro autista. Previamente, fue coordinadora de investigación en University of Souththern California de un estudio de 5 años que promovía la nutrición en la comunidad Latinx del Este de Los Ángeles. Eligió esta profesión para apoyar a la comunidad hispanohablante a partir del poder de los alimentos, las intervenciones y la investigación para ampliar la calidad y el acceso adecuado a los recursos y la salud.
[Em Português]
Brenda Manzanarez, MS, RD é nutricionista registrada do Departamento de Nutrição Clínica e Lactação do Hospital Infantil de Los Angeles. Em seus 10 anos de experiência na implementação de intervenções comunitárias comportamentais para crianças e familiares, seu foco tem sido promover comportamentos de estilo de vida saudáveis em populações carentes e de língua espanhola. As suas áreas de atuação atuais envolvem a de clínica, pesquisadora e educadora em nutrição pediátrica. Ela lidera intervenções no ambiente hospitalar e comunitário com o objetivo de auxiliar as famílias no gerenciamento da obesidade infantil e adolescente e diabetes. Ela também é a coordenadora-chefe do Programa Kids N Fitness (KNF) e pesquisadora principal adaptando o currículo da KNF para adolescentes e adultos jovens com transtorno do espectro autista. Anteriormente, ela foi coordenadora de pesquisa na Universidade do Sul da Califórnia para um estudo de 5 anos promovendo nutrição na comunidade Latinx no leste de Los Angeles. Ela escolheu essa profissão para apoiar a comunidade de língua espanhola através do poder dos alimentos, intervenções e pesquisas para ampliar a qualidade e o acesso adequado aos recursos e cuidados de saúde.