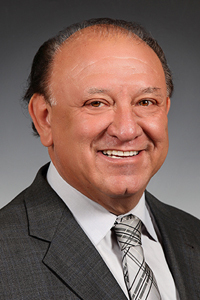 Eliseo Torres, Ed.D., M.A, B.A
Administrator/Professor
University of New Mexico
Eliseo "Cheo" Torres has served as Vice President for Student Affairs/Full Professor at the University of New Mexico since January 2, 1996. He is responsible for all facets of student life, which include programs such as El Centro de la Raza, African American and American Indian Student Services, Women's Resource Center, Student Union, Student Activities, Student Health & Counseling Center, Career Services, etc. He teaches three classes on traditional medicine, and regularly lectures and gives presentations on the history and lore of curanderismo to audiences ranging from scholars and students of Latin American culture to people hoping to become knowledgeable about alternative and traditional medicine, including lay people and medical professionals alike. He has published four books on his life and his research in traditional medicine emphasizing medicinal plant and rituals published by the University of New Mexico Press and Kendall Hunt Publishing Company.

Before he came to the University of New Mexico, Dr. Torres served as Vice President for External Affairs at Texas A&M University-Kingsville as well as teaching in the Bilingual Doctoral Program. He has also served as Interim President and Vice President of Student Affairs.He is currently serving on the Hispano Chamber of Commerce Board and has been involved in a number of other boards and organizations.
[En Español]
Eliseo "Cheo" Torres ha sido Vicepresidente de Asuntos Estudiantiles/Profesor Titular en University of de Nuevo México desde el 2 de enero de 1996. Es responsable de todas las facetas de la vida estudiantil, que incluyen programas como El Centro de la Raza, los Servicios para Estudiantes Afroamericanos e Indígenas Americanos, el Centro de Recursos para la Mujer, la Unión Estudiantil, las Actividades Estudiantiles, el Centro de Salud y Asesoramiento Estudiantil, los Servicios de Carrera, etc. Es profesor de tres cursos sobre medicina tradicional, y regularmente da conferencias y presentaciones sobre la historia y la sabiduría del curanderismo a audiencias que van desde los estudiosos y estudiantes de la cultura latinoamericana hasta las personas que desean adquirir conocimientos sobre la medicina alternativa y tradicional, incluyendo tanto a los legos como a los profesionales de la medicina. Ha publicado cuatro libros sobre su vida y su investigación en medicina tradicional haciendo hincapié en las plantas medicinales y los rituales, publicados por la University of New Mexico Press y la Kendall Hunt Publishing Company.
Antes de llegar a University of Nuevo México, el Dr. Torres se desempeñó como Vicepresidente de Asuntos Externos en la Universidad A&M de Texas-Kingsville, además de ser docente en el Programa de Doctorado Bilingüe. También ha servido como Presidente Interino y Vicepresidente de Asuntos Estudiantiles. Actualmente forma parte de la Junta de la Cámara de Comercio Hispana y ha participado en otras juntas y organizaciones.
[Em Português]
Eliseo, "Cheo" Torres atua como Vice-presidente de Assuntos Estudantis/Professor Titular na Universidade do Novo México desde 2 de janeiro de 1996. Ele é responsável por todas as facetas da vida estudantil, que incluem programas como El Centro de la Raza, Serviços para Estudantes Afro-Americanos e Nativo-Americanos, Centro de Recursos da Mulher, União Estudantil, Atividades Estudantis, Centro de Saúde e Aconselhamento Estudantil, Serviços de Carreira, etc.Ele ministra três aulas sobre medicina tradicional, e oferece regularmente palestras e apresentações sobre a história e tradições do curandeirismo a públicos que abrange acadêmicos e estudantes da cultura latino-americana até pessoas que esperam se tornar conhecedoras da medicina alternativa e tradicional, incluindo leigos e profissionais médicos. Ele publicou quatro livros sobre sua vida e sua pesquisa em medicina tradicional enfatizando plantas medicinais e rituais publicados pela University of New Mexico Press e Kendall Hunt Publishing Company.
Antes de chegar à Universidade do Novo México, Dr. Torres atuou como vice-presidente de Assuntos Externos na Texas A&M University-Kingsville, e também lecionou no Programa de Doutorado Bilíngue. Ele também atuou como Presidente Interino e Vice-Presidente de Assuntos Estudantis. Atualmente, ele atua na Câmara de Comércio Hispana e tem estado envolvido em vários outros conselhos e organizações.