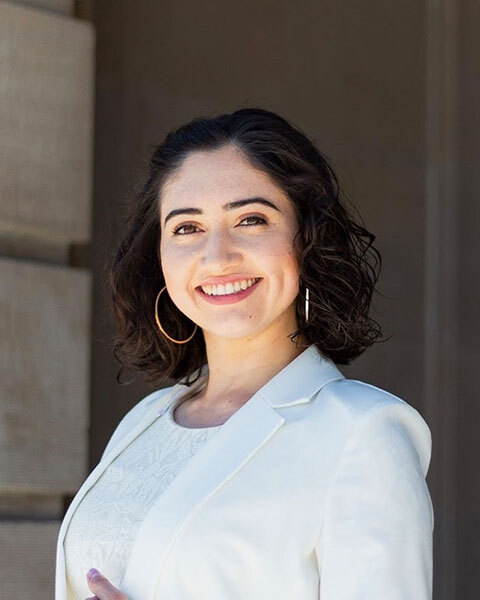 Gabriella Gaus Hinojosa, BA
Graduate Student
UW Madison
Gabriella Gaus Hinojosa, is a doctoral student in the Department of Counseling Psychology at the University of Wisconsin-Madison. Her scholarship focuses on a strength-based approach to understanding how culture, language, and structures influence psychological wellness, interventions, and the training of therapists serving populations that have been marginalized in Latin America and the United States. As a Graduate Training Fellow in Mental Health Equity and Policy, she has conducted research and provided consultation and program development on the intersections of mental health equity and policy. Gabriella has also conducted research on culturally endogenous psychological assessment and treatment persistence in Mexico and the effects of the COVID-19 pandemic on Ecuadorian health care professionals.
[En Español]
Gabriella Gaus Hinojosa, es estudiante de doctorado en el Departamento de Psicología de la University of Wisconsin-Madison. Su beca se centra en un enfoque basado en la fuerza para entender cómo la cultura, el lenguaje y las estructuras influyen en el bienestar psicológico, las intervenciones y la capacitación de los terapeutas que atienden a las poblaciones que han sido marginadas en América Latina y los Estados Unidos. Como becaria de formación de posgrado en Equidad y Política de Salud Mental, ha realizado investigaciones y ha proporcionado consultas y desarrollo de programas sobre las intersecciones de la equidad y la política de salud mental. Gabriella también ha realizado investigaciones sobre la evaluación psicológica culturalmente endógena y la persistencia del tratamiento en México, así como los efectos de la pandemia de COVID-19 en los profesionales de la salud ecuatorianos.
[Em Português]
Gabriella Gaus Hinojosa, é doutoranda no Departamento de Psicologia Clínica da Universidade de Wisconsin-Madison. Sua bolsa de estudos se concentra em uma abordagem baseada na Psicologia Positiva para entender como a cultura, a linguagem e as estruturas influenciam o bem-estar psicológico, as intervenções e a formação de terapeutas que atendem populações marginalizadas na América Latina e nos Estados Unidos. Como Bolsista de Pós-Graduação em Equidade e Política em Saúde Mental, realizou pesquisas e forneceu consultas e desenvolvimento de programas sobre as intersecções de equidade e política em saúde mental. Gabriella também realizou pesquisas sobre avaliação psicológica culturalmente endógena e persistência no tratamento no México e os efeitos da pandemia da COVID-19 sobre profissionais de saúde equatorianos.