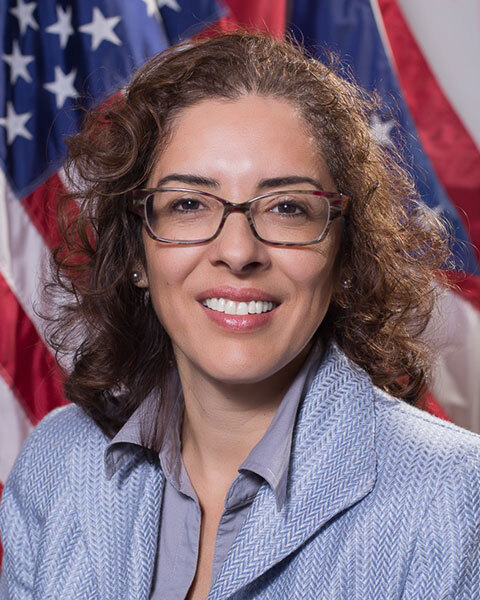 Lilly Cavanaugh, OH, MBA, CPM
Executive Director
Ohio Commission on Hispanic/Latino Affairs
Lilly serves as Executive Director for the Ohio Commission on Hispanic/Latino Affairs, State of Ohio. Mrs. Cavanaugh has been directly engaged with the Latino community in Ohio for 24 years; the last thirteen serving in a statewide capacity with the Commission. She has played a key role in building collaboration and partnerships among government entities, community-based organizations and the private sector to improve the quality of life and opportunities for Hispanic Ohioans and other ethnic minorities. She is originally from Costa Rica and has lived and worked in Latin America, Africa, South East Asia, Europe, and the United States. Lilly is a Certified Public Manager, and has an associate's degree in Business from Sinclair Community College, a bachelor's degree in Management from the University of Phoenix, and a master's degree in Business Administration from Capella University.
[En Español]
Lilly es Directora Ejecutiva de la Comisión de Asuntos Hispanos/Latinos del Estado de Ohio. La Sra. Cavanaugh lleva 24 años comprometida directamente con la comunidad latina de Ohio; los últimos trece sirviendo en un puesto estatal con la Comisión. Ha desempeñado un papel fundamental en la creación de colaboraciones y asociaciones entre entidades gubernamentales, organizaciones comunitarias y el sector privado para mejorar la calidad de vida y las oportunidades de los hispanos de Ohio y otras minorías étnicas. Es originaria de Costa Rica y ha vivido y trabajado en América Latina, África, el Sudeste Asiático, Europa y Estados Unidos. Lilly es Administradora Pública Certificada, y tiene un título de Asociado en Negocios del Sinclair Community College, una Licenciatura en Administración de la University of Phoenix, y una Maestría en Administración de Empresas de la Capella University.
[Em Português]
Lilly atua como Diretora Executiva da Comissão de Ohio sobre Assuntos Hispânicos/Latinos, Estado de Ohio. A Sra. Cavanaugh está diretamente envolvida com a comunidade latina em Ohio há 24 anos; os últimos treze anos prestando serviços em uma capacidade estadual com a Comissão. Ela desempenhou um papel fundamental na construção de colaboração e parcerias entre entidades governamentais, organizações comunitárias e o setor privado para melhorar a qualidade de vida e gerar oportunidades para os hispânicos Ohioanos e outras minorias étnicas. Ela é originária da Costa Rica e viveu e trabalhou na América Latina, África, Sudeste Asiático, Europa e Estados Unidos.Lilly é Gerente Pública Certificada e tem diploma de associado em Business pela Sinclair Community College, bacharel em Administração pela Universidade de Phoenix e mestre em Administração de Empresas pela Capella University.