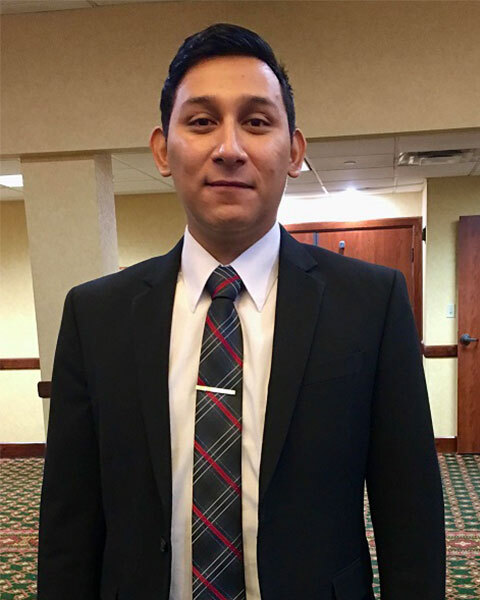 Mario Esteban Del Angel Guevara, M.A.
Doctoral Candidate in Hispanic Linguistics
The University of New Mexico
Mario Esteban del Ángel Guevara was born in Monterrey, Nuevo León, Mexico where he obtained his bachelor's degree in Bilingual education at the "Universidad Autónoma de Nuevo León". He is a PhD candidate in Hispanic linguistics at the Department of Spanish and Portuguese where he has taught courses in Spanish as a Second Language, Heritage language, medical Spanish and currently teaches two courses on Curanderismo: Traditional Medicine of Mexico and the Southwest. Besides teaching, his work also includes translating and interpreting Spanish-English for the Division of Student Affairs and as mentor for transfer students for the CNM-UNM Mellon Transfer Initiative for the Humanities for the Spanish and Portuguese department. Some of his major translated publications include three books on Curanderismo, the traditional medicine of Mexico, a book on finances for U.S. Latinos: balancing family, business and culture, and an article on indigenous linguistic policy in Oaxaca Mexico, during the presidential elections of 2018.
[En Español]
Mario Esteban del Ángel Guevara nació en Monterrey, Nuevo León, México, donde obtuvo su licenciatura en educación bilingüe en la Universidad Autónoma de Nuevo León. Es candidato a un doctorado en lingüística hispánica en el Departamento de Español y Portugués, donde ha impartido cursos de Español como Segunda Lengua, Lengua de Herencia, Español Médico y actualmente imparte dos cursos sobre el Curanderismo: Medicina Tradicional de México y el Suroeste. Además de la enseñanza, su trabajo también incluye la traducción e interpretación Español-Inglés para la División de Asuntos Estudiantiles y como mentor de los estudiantes de transferencia de la Iniciativa de Transferencia CNM-UNM Mellon para las Humanidades del departamento de español y portugués. Algunas de sus principales publicaciones traducidas incluyen tres libros sobre el curanderismo, la medicina tradicional de México, un libro sobre las finanzas para los Latinos de Estados Unidos: el equilibrio de la familia, los negocios y la cultura, y un artículo sobre la política lingüística indígena en Oaxaca México, durante las elecciones presidenciales de 2018.
[Em Português]
Mario Esteban del Ángel Guevara nasceu em Monterrey, Nuevo León, México, onde obteve seu bacharelado em Educação Bilíngue na "Universidad Autónoma de Nuevo León". Ele é doutorando em linguística hispânica pelo Departamento de Espanhol e Português, onde lecionou cursos de espanhol como Segunda Língua, Língua Patrimonial, Espanhol Médico e atualmente ministra dois cursos sobre Curandeirismo: Medicina Tradicional do México e do Sudoeste. Além de lecionar, seu trabalho também inclui traduzir e interpretar espanhol-inglês para a Divisão de Assuntos Estudantis e ser um mentor para alunos transferidos para a Iniciativa de Transferência CNM-UNM Mellon para as Humanidades para o departamento de Espanhol e Português. Algumas de suas principais publicações traduzidas incluem três livros sobre Curandeirismo, a medicina tradicional do México, um livro sobre finanças para latino-americanos: equilibrando família, negócios e cultura, e um artigo sobre política linguística indígena em Oaxaca México, durante as eleições presidenciais de 2018.