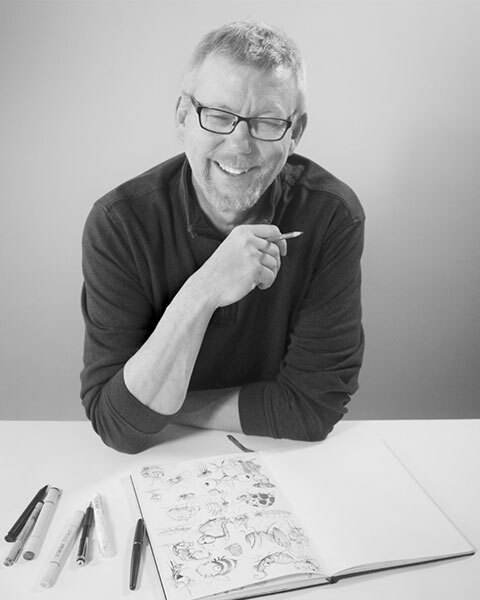 Russ Cox
Artist
Smiling Otis Studios
Russ Cox was raised in the backwoods of Tennessee. Without much in the way of modern conveniences, like a television set or running water, he spent his time drawing, whittling, and throwing dirt clods at his cousins. With the bulk of his life spent in Pennsylvania, he met his wife; became a graphic designer; played in punk, alternative, and surf bands; had two kids; and started his own illustration studio, Smiling Otis Studio (named after one of their very large cats). Russ creates his art the old school way using paper, pencil, gouache, and watercolor. Using traditional tools gives Russ an opportunity to explore and experiment. He also works digitally, sometimes a combo with traditional mediums, for his comic and graphic novel work.
Russ lives in Maine with his wife and three cats.
[En Español]
Russ Cox se crió en los bosques de Tennessee. Sin muchas comodidades modernas, como un televisor o agua corriente, pasaba el tiempo dibujando, esculpiendo y lanzando pedazos de barro a sus primos. La mayor parte de su vida la vivió en Pensilvania, donde conoció a su esposa, donde se hizo diseñador gráfico, participó en grupos de punk, alternativos y de surf, tuvo dos hijos y estableció su propio estudio de ilustración, Smiling Otis Studio (llamado así por uno de sus enormes gatos). Russ elabora su arte a la usanza de la vieja escuela, utilizando papel, lápiz, gouache y acuarela. El uso de herramientas tradicionales le brinda a Russ la oportunidad de explorar y experimentar. En ocasiones también trabaja digitalmente, en ocasiones También trabaja digitalmente, en ocasiones combinando con medios tradicionales, para sus cómics y novelas gráficas.
[Em Português]
Russ Cox foi criado no sertão do Tennessee. Sem ter muito das conveniências modernas, como televisão ou água corrente, ele passava seu tempo desenhando, esculpindo e jogando torrões de terra em seus primos. Tendo passado a maior parte de sua vida na Pensilvânia, ele conheceu sua esposa; tornou-se um designer gráfico; tocou em bandas punk, alternativa e surf; teve dois filhos; e começou seu próprio estúdio de ilustração, Smiling Otis Studio (nome de um de seus enormes gatos). Russ cria sua arte à moda antiga usando papel, lápis, guache e aquarela. O uso de ferramentas tradicionais dá a Russ a oportunidade de explorar e experimentar. Ele também trabalha digitalmente, às vezes fazendo um combo com meios tradicionais, para seu trabalho de cômicos e livros ilustrados.